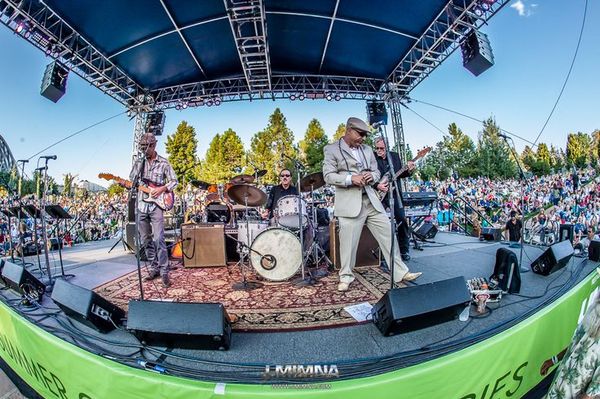 The Delta Sonics music takes a Chicago Blues base and seasons it with Swing, Delta, N'awlins R&B and some early Rock n' Roll . They were Westword's best blues band in Denver the last six of eight years. The band made the semi-finals in the International Blues Challenge in Memphis  2012.The band has also played in Kansas City, St. Louis and New Orleans among other cities. 
Averaging 250 gigs a year before 2020, they're comfortable playing large events and concerts as well as smaller venues.  The band has played the Taste of Colorado, the Boulder Creek Fest, the Greeley Blues Jam, Pearl St. Blues & Brews, the Five Points Jazz Festival, Triniddadio, Bohemian Nights, the Cherry Creek Arts Fest and many others.
Al Chesis supplies vocals & foot stomping showmanship but it's his harmonica playing that grabs you. He has been a Hohner endorser since 1992. Bob Pellegrino supplies the dazzling, slide guitar. Bob was the Colorado Blues Society's best slide guitar player in three years in a row. Alissa Chesis on bass and Stefan Flores on drums 'drive the bus'. 
The Sonics have  been THE Mile Hi 'go-to' band for touring Blues national acts for nearly 15 yrs. The band has backed national blues acts like Big Bill Morganfield, Steadyrollin' Bob Margolin, Ronnie Baker Brooks, grammy -nominated Lurrie Bell, grammy -nominated John Primer, the late Pinetop Perkins, and the late Bo Diddley. 
The Delta Sonics opened for BB King (twice), Robert Cray (three times), and Jimmy Vaughn (twice) among many others.
Al Chesis also guests on Big Head Todd's album "Black Beehive" on the cut "I Get Smooth"
---
Al Chesis ~ Harmonica/Vocals
Al has played in Colorado since the mid-1980's after moving to Denver from Washington, D.C. He played in the Mojo-Matics for five years, opening shows for Albert Collins, Elvin Bishop, Taj Mahal, Canned Heat and others. Al was featured at SPAH (Society for Preservation & Advancement of Harmonica) in (2006)(2015) and Mark Hummel's Harmonica Blowout in 2009 with Kim Wilson, Magic Dick, Jason Ricci and Mark Hummel. He received a Lifetime Achievement Award from the Colorado Blues Society in 2022.

He has also done studio work for two PBS movie soundtracks and Denver area radio stations, including KBCO, KUVO and the FOX. Al has toured locally and nationally with Muddy Waters' son Big Bill Morganfield, appearing at venues in Canada, Utah, Florida and Wisconsin, as well as at the prestigious Chicago Blues Festival in 2002.

 Al toured regionally with Pinetop Perkins, Steadyrollin' Bob Margolin, Lurrie Bell and Willie "Big Eyes" Smith. Al has been a Hohner Harmonica endorsee since 1992.

Photo by: Rob Stuehrk / Agile Imaging
Bob Pelligrino ~ Guitar / Vocals
In 1990, Bob received national attention when he appeared in the backing band of famed Detroit blues artist Eddie "The Energy Man" Kirkland. With Kirkland, Pellegrino recorded a segment for Ruth Brown's nationally broadcast "Blues Stage" at Manny's Car Wash in New York City. Bob opened for Koko Taylor, Duke Robillard and James Cotton. He also backs Tad Robinson and others when they appear in the Denver area. 

Bob won " Best Slide Guitar Player" three years straight in the Colorado Blues Society Member Awards.

 Pellegrino has been a mainstay blues player in the Rocky Mountain region for more than 25 years, but has also played all over the country including Kansas City's Grand Emporium, Manny's Car Wash in New York, the Hard Rock Cafe in Dallas, and Antone's  in Austin. Bob has also been featured at the Swallow Hill Folk Festival and the 2006 Monterrey Bay Blues Festival.
Growing up around Blues music all her life, Alissa spent some summers at the Pinetop Perkins foundation camp in Clarksdale, Mississippi. There she met other campers continuing the Blues legacy like Kingfish, Nic Clark, and others. At the end of it all, they played culminating concerts at Morgan Freeman's Ground Zero Club. 
Alissa has appeared in the bands of Bob Margolin, Big Bill Morganfield, Ken Saydak and Colorado Springs singer JoAnne Taylor. She also plays in the Colorado band The Deep Pocket Thieves. Alissa has opened for Robben Ford, Guitar Shorty and others. She has been featured at Blues From The Top, Triniddadio, and Pearl St. Blues and Brews among others.
Stefan is an in-demand drummer in Colorado who has studied with some of the greatest drummers and teachers from around the world. He has the ability to play many styles and is well versed in the Blues genre. He has appeared in the Blues bands of Magic Dave, Joe Sciallo and the Deep End and Joanne Taylor and now works full time with the Delta Sonics. .
A drummers drummer, he has appeared with Jazz artists like Wayne Wilkinson, Steve Langmo and Nelson Rangel. He is a founding member of the band Titan Force, which recorded 5 albums and still tours Europe.